VERY Rare (1 of 26 made) 2003 C215 CL63 V12 AMG
(MB-Exotenforum)
I noticed this for sale in Bonhams Mercedes Sale..
Very rare!
Text from the website:-
2003 MERCEDES-BENZ CL63 AMG
€45,000 - 75,000
£36,000 - 60,000
One of only 26 examples with the AMG V12 engine
2003 Mercedes-Benz CL63 AMG
Chassis no. WDB215.378-1A-026599
Engine no. 137.980-40-018874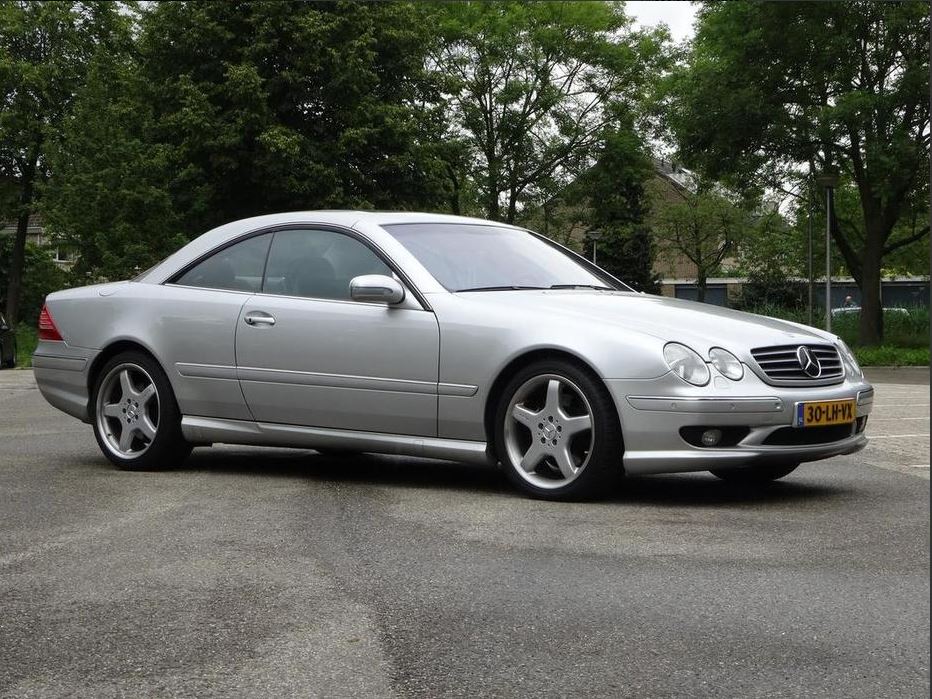 http://www.bonhams.com/auctions/22177/lot/28/
A veritable \'wolf in sheep\'s clothing\' with an unrestricted top speed of over 300km/h, the car offered here is one of only 26 of its type produced with the AMG 6.3-litre V12 engine, as used in the Pagani Zonda supercar. These exclusive \'super saloons\' were available only from AMG. That offered here cost a staggering €272,000 when new. This particular car was delivered new to the AMG dealer for the Netherlands, ASV in Veghel and driven as a demonstrator by the dealership\'s president. It is finished in silver with Anthracite Nappa leather interior and is \'fully optioned\'. First registered in January 2003, the car was used by ASV as their flagship model before being sold by them to the current lady vendor (its first private owner) in November 2006, at which time it had covered only 32,500 kilometres. After the 50,000 kilometres service the engine developed a fault and was replaced by AMG in its Affalterbach factory at the company\'s own expense (photographic record on file). The car was kept on the road until the registration was cancelled in 2012.
In April 2014 it was taken out of storage and updated and re-commissioned by AMG at a cost of €4,807 to put it on the road again (the last service stamp was at 141,946 kilometres and the current odometer reading is circa 142,000 kilometres). The technical inspection was carried out in May 2014. Very well maintained by the current owner since 2006 with no expense spared, the car is presented in generally very good original condition and comes with full service history, owner\'s wallet, all books and the AMG badges that the owner did not want on her car. Additional documentation consists of the data card, owner\'s notes, taxation report (2013), dynamometer power curve printout, Netherlands registration papers and certification for the Technocon vehicle tracker.
No reserve.
Eines von nur 26 gebauten Exemplaren mit dem AMG V12 Motor,
2003 Mercedes-Benz CL63 AMG
Fahrgestell-Nr. WDB215.378-1A-026599
Motor-Nr. 137.980-40-018874
Ein wahrhaftiger \'Wolf im Schafspelz\' mit einer unbeschränkten Höchstgeschwindigkeit von 300km/h ist das hier angebotene Auto, eines der nur 26 dieser Art die mit dem AMG 6,3-Liter V12 Motor, wie er auch im Pagani Zonda Supercar verbaut ist. Diese exklusiven \'S-Coupés\' waren nur von AMG erhältlich. Das hier angebotene Exemplar kostete neu stattliche 272.000Euro. Es wurde als Neufahrzeug zur AMG Niederlassung der Niederlande, ASV in Veghel, geliefert und dotr als Vorführfahrzeug vom Präsidenten der Niederlassung gefahren. Der Wagen hat eine silberne Lackierung, ein anthrazitfarbenes Leder-Interieur und eine Vollausstattung. Das Auto wurde nach der Erstzulassung im Januar 2003 von ASV als Vorführfahrzeug genutzt, bevor es von ihnen an die derzeitige Anbieterin (erster Privatbesitz) im November 2006 verkauft wurde. Bis zu diesem Zeitpunkt wurden mit dem Fahrzeug nur 32.500 Kilometer gefahren. Nach der 50.000 Kilometer-Wartung entwickelte der Motor einen Fehler und wurde von AMG in deren Werk in Affalterbach auf Kosten der Firma ersetzt (Fotografien liegen in der Akte vor). Das Auto wurde bis zur Kündigung der Zulassung 2012 auf der Strasse gefahren.
Im April 2014 wurde das Auto aus dem Lager geholt und von AMG für 4.807Euro überholt und neu in Betrieb genommen um es zurück auf die Straße zu bringen (der letzte Wartungsstempel war bei 141.946 Kilometer und der momentane Tachostand liegt bei ungefähr 142.000 Kilometern). Die technische Inspektion wurde im Mai 2014 durchgeführt. Seit 2006 wurde der Wagen von der derzeitigen Besitzerin ohne Kosten zu scheuen sehr gut gepflegt und wird in einem sehr guten originalen Allgemeinzustand präsentiert. Beiliegend: komplette Wartungshistorie, Besitzermappe, alle Bücher und die AMG Aufkleber, die die Besitzerin nicht auf Ihrem Auto wollte. Weitere Zusatzinformationen bestehen aus der Datenkarte, Besitzernotizen, Steuerbescheinigung (2013), Ausdruck der Leistungskurven des Drehmomentverlaufs, Niederländischen Zulassungspapieren und Bescheinigung des Technocon Vehicle Tracker (Niederländisches Fahrzeug Ortungssystem).
--
1998 Porsche 911 (996) Carrera 2
---
zur Startseite